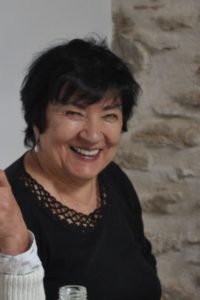 Alla was the beloved wife of Yves Omer, who was the fabulous filmmaker of Captain Jacques-Yves Cousteau.
Alla was also the Head of the Jacques-Yves Cousteau school in Saint Petersburg.
JY.Cousteau School in St. Petersburg.
In 1992, a contest was launched to find a name for the school number 4. Out of all the famous people that the Russian public had included on the list, it is the name of the Captain which was chosen to become the name of the school number 4.
Alla Omer Yershova, Yves Omer and Ms Apatovskaia, head of French language education, came to our office in Paris to request permission to use the name. Captain Cousteau willingly granted them this wish due to the great work of the school.
I remember the emotion and joy of all!
On May 25, 1992, during a magnificent ceremony, School No. 4 officially became: JY Cousteau School.
Alla also gave us a bronze bust of the Captain, the original is installed at the entrance of the school, and which had been carved by one of the student's parents who was an artist. Alla also gave the Captain some drawings that the children did. The students and teachers wrote the anthem of the Cousteau school, which is still sung at all important school festivals. Alla Omer Yershova had wanted all this and had succeeded perfectly with her gentleness and tenacity that made her a woman of great quality of character.
 The legacy of Alla Omer Yershova
Alla left, but she and the Captain's school remain in our hearts, in our memory as in our present forever. As a continuation of Alla's work, she continues to teach French at a remarkable level.
Thank you Alla! You, as well as your memory, are a ray of happiness in my heart.
On behalf of our entire team, I offer Yves Omer my sincere condolences.